Auto Accident Care in South Calgary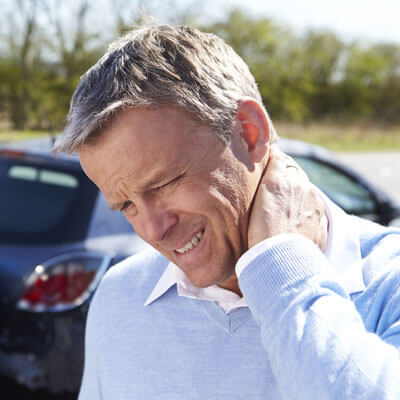 If you have been in a Motor Vehicle Accident, you are entitled to treatment under your automobile insurance. To access these benefits, you must have an assessment done by a primary health care provider within 10 days of the accident. Dr. Byrne is authorized to provide these assessments and to continue with treatment within the protocols of automobile insurance.
Seek Care Within 14 Calendar Days
If you're in an auto accident, you have 10 business days or 14 calendar days to file a claim, and the auto insurance cannot refuse it. They have to accept it. Outside of 14 days, however, it becomes their choice and discretion. We recommend the following:
Have an injury assessment done
File the claim
Then you have 21 visits over 90 days to get the treatment done
If you have a situation where you only need three treatments or you don't need any, then you can always close the claim down. But the insurance is there to protect you in case you need it.
Whiplash Can Occur at Low Speeds
Dr. Byrne often tells people about a husband and wife that were in an auto accident. They were in a Walmart parking lot looking for a parking spot. The wife was driving, and the husband was in the passenger seat. She had her neck turned looking for a spot one way. He was rotated at the waist, looking out the passenger side window when a vehicle backing out of their spot bumped into them. As they were in a parking lot, they couldn't have been going too fast.
The wife came in right away and said that her neck was a little stiff and that she had some headaches. She didn't have them before the accident. Her husband wouldn't come in at first. In fact he didn't come in until day 14. When he did, the husband asked Dr. Byrne to do an assessment and file it. So Dr. Byrne did an assessment showing at that time a mild lower back injury.
An improvement in the wife's symptoms
The woman kept coming in over the next month to get her neck and headaches resolved. Finally, her husband came in one day without her and had booked an appointment. Dr. Byrne asked him what was going on. The husband said his minor lower back pain was progressively getting worse and now three of the last four nights he experienced a bladder control issue. Though Dr. Byrne did a base assessment five weeks earlier he knew something was going on.
The value of the husband's timely assessment
After Dr. Byrne did a re exam, it now revealed that the man blew a disc—with the back rotated, just the impact was enough to shear it. A couple of weeks later, he had an MRI to prove it and then a month later, the man was in for surgery. It was all covered because we did the initial assessment. According to Dr. Byrne, had the man not had the initial assessment, the insurance company could argue that his problems didn't happen as a result of the accident.
The Moral of the Story—Just File the Claim
Dr. Byrne likes to share that story because he wants people to always go ahead and file the claim, even if it was a minor fender bender or other low-speed type of accident and they feel they are fine and have no injuries.
Anyone who's been in an automobile accident should strongly consider having an assessment done. That's because, in many cases, injuries might not be there initially. They can present themselves after a short time period, whether it be a couple of days or a few weeks. An assessment can often see the underlying issues even though the symptoms have yet to present themselves.
Book an Appointment
If you've been in an auto accident, don't delay seeking care. Contact us right away to schedule an appointment for an assessment.

Auto Accident Chiropractor South Calgary, Calgary AB | (403) 287-5866