Same-Day Chiropractic Care in South Calgary
Discover True Wellness At Byrne Health Chiropractic & Wellness Centre
Whether you're seeking pain relief or want to enjoy optimal health through wellness care, discover the difference that chiropractic can make. Our goal is to deliver the best quality health care possible to our patients while treating everyone like family.
Conditions Chiropractic Care Helps:
Back Pain
Hip Pain
Neck Pain
Shoulder Pain
Headaches & Migraines
Plantar Fasciitis
Piriformis Syndrome
Disc Problems
Degenerative Joint Issues
Arthritis
Avoiding Back Or Neck Surgery
We are conveniently located, offer same-day appointments to get you out of pain quickly, and direct bill insurance to make things as simple as possible for you to get the care you need.
Call us at (403) 287-5866 or request an appointment online now – We look forward to meeting you!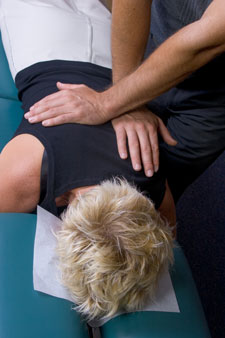 Personalized Chiropractic Care To Fit You
There's no question that chiropractic is incredibly effective when it comes to relieving pain. But did you know that it can do so much more? It can help with an array of common childhood conditions such as earaches and colic. Chiropractic also can allow seniors to move easier so they can enjoy a higher quality of life. Athletes looking to up their game also can benefit from chiropractic as it can help to prevent and heal sports-related injuries.
We'll tailor your care to your health goals, ensuring that your plan works for you. Our team thrives on seeing lives transformed by natural health care!
Call us at (403) 287-5866 or request an appointment online now!

I am overly impressed and feel very safe and well taken care of in the hands of my chiropractor. He has gone above and beyond his requirements as a chiropractor and he has taken the time to make sure I am getting all the help I need. He has also given me excellent referrals which are most appreciated especially due to the fact that I am new to Calgary and am just getting rooted in a new Province.

Thank you for all your help. My back is much better!

First time ever at a chiropractor and it was awesome! Dr. Dale was super awesome and very knowledgeable in the problem areas I had! Can't wait to go back!

I was in constant pain for almost one year. After seeing Dr Dale once and getting my assessment I was able to have my first great sleep in months. During my second visit we went over my treatment plan and what I could expect. My back now feels so much better. I can't thank you enough!*

I went to the office mostly for maintenance of my spinal alignment, but I also complained of shoulder pain. Dr Byrne was quick to suggest ultrasound and X-rays to determine the extent of any damage so he could confidently recommend a treatment plan. I was very pleased with the fast turnaround between results delivery and making the next appointment to discuss my treatment.

Fantastic first visit. Dr.  Bryne listened to my concerns and addressed them accordingly. Highly recommend.

I was in and out super quick and I'm already feeling better after my first visit.

All in all it was a very welcomed experience as I have never gone to a chiropractor before. I felt so so good with the treatment that I received and have since been several times. Dr. Byrne is a very pleasant person and made me feel very welcomed.

Thanks much for the treatment. I really feel better.

My experience was amazing. I came in feeling very bad, and he fixed me up nice. I felt comfortable and heard the whole time. 10/10!
WE DIRECT BILL INSURANCE COMPANIES
Call us at (403) 287-5866 today!

Request Your Appointment Today!

It's Time To Reclaim Your Life.
Call Us Today! (403) 287-5866

Experienced Family Chiropractor Serving South Calgary And Surrounding Areas