Same Day Plantar Fasciitis Treatment In South Calgary
Dr. Dale Byrne Treats Plantar Pain Fast
Plantar fasciitis is one of the most common causes of heel pain. It can result from incorrect walking, running or even standing and causes improper biomechanics.
Putting too much pressure on long aspects of the joint to the bone and stretching ligaments that shouldn't be stretched can cause the body to lay down more calcium in the ligaments. The result is pain, tenderness, swelling, inflammation and difficulty walking.
We address the root cause of your plantar fasciitis while also offering quick relief for your pain.
We are conveniently located, offer same-day appointments to get you out of pain quickly, and direct bill insurance to make things as simple as possible for you to get the care you need.
We can help you today – call (403) 287-5866 or

book online now

!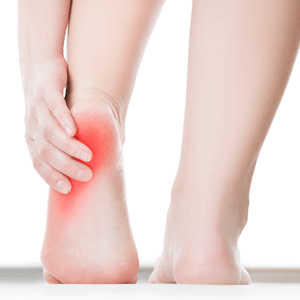 Thanks much for the treatment. I really feel better.

Thank you for all your help. My back is much better!

My experience was amazing. I came in feeling very bad, and he fixed me up nice. I felt comfortable and heard the whole time. 10/10!

I was in constant pain for almost one year. After seeing Dr Dale once and getting my assessment I was able to have my first great sleep in months. During my second visit we went over my treatment plan and what I could expect. My back now feels so much better. I can't thank you enough!*

Fantastic first visit. Dr.  Bryne listened to my concerns and addressed them accordingly. Highly recommend.

First time ever at a chiropractor and it was awesome! Dr. Dale was super awesome and very knowledgeable in the problem areas I had! Can't wait to go back!

I was in and out super quick and I'm already feeling better after my first visit.

I went to the office mostly for maintenance of my spinal alignment, but I also complained of shoulder pain. Dr Byrne was quick to suggest ultrasound and X-rays to determine the extent of any damage so he could confidently recommend a treatment plan. I was very pleased with the fast turnaround between results delivery and making the next appointment to discuss my treatment.

All in all it was a very welcomed experience as I have never gone to a chiropractor before. I felt so so good with the treatment that I received and have since been several times. Dr. Byrne is a very pleasant person and made me feel very welcomed.

A very friendly and professional place.
WE DIRECT BILL INSURANCE COMPANIES
Call us at (403) 287-5866 today!

Get Plantar Fasciitis Relief Today!
(403) 287-5866

Expert Plantar Pain Treatment in South Calgary